Racism in Football- The Shunned Reality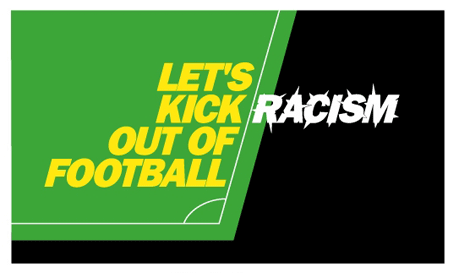 Imagine you are a footballer playing in a match, trying to focus on what you are doing but the crowds are yelling racist chants at you,  "We don't want the negro".
We live in the 21st century but still we haven't been able to eradicate racism. Racism is everywhere, in every corner of the world. Many players actually leave countries to play for different leagues because they are driven out by racist chants from certain crowds. When I say racial abuse, I mean the name-calling, the crude racial stereotyping.
Earlier in January, Kevin-Prince Boateng walked off midway through the first half of a match against Pro Patria after kicking the ball towards the crowd that racially abused him during the game.
Ivory Coast defender, Zoro faced racist chanting from supporters of  Inter Milan. Zoro threatened to leave the pitch by picking up the ball in the 66th minute and handing  it to one of the referees. Inter Milan members, Adriano and Martins went to support an upset Zoro and tried to convince him to keep playing.
"
… racism shouldn't be taken lightly, nor should it be ignored simply because you think it can't be changed"
UEFA has reinforced its stand against racism and, together with player's body FIFPro, is now actively supporting campaigns attempting to banish this evil from football and society.
I know you might be thinking that racism in football has been simply exaggerated and fans and players are just seeking attention. Well let me tell you one thing; racism shouldn't be taken lightly, nor should it be ignored simply because you think it can't be changed.  I understand how die-hard football fans tend to dislike their rival teams, but picking on them individually with racial slurs won't make your team win!
"No matter your religion, nationality or skin colour, you all pull on the same shirt with one common goal," said Paris Saint-German FC defender Christophe Jallet ,adding "I think we are the best example of this fight against racism."*
Galatasaray AŞ defender Dany Nounkeu also voiced his opinion, "Football is universal, something everybody understands. Maybe we can't change everybody's mind, but as footballers we can take the responsibility to fight against all sorts of discrimination. Because in the end, black or white, all these people that come out for a game in the UEFA Champions League, all come out to see a game. That is the power of football."*
If footballers are prepared to fight against racism we should follow their paths too. Maybe together, the sport of football will finally escape the claws of rascim.
*http://www.uefa.org/socialresponsibility/antiracism/news/newsid=1883517.html
Leave a Comment