So, so Romeo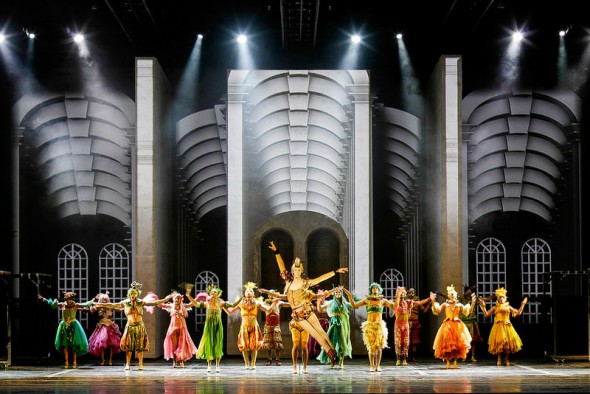 Everyone has read, seen or heard of Romeo and Juliet at least once in their lives. A very unoriginal storyline, in fact, for the Italian musical "Romeo e Giulietta: ama cambia il mondo", which will be performed by a touring cast in several theatres all around Italy.
Although this 'Romeo and Juliet business' might cause initial prejudice towards the musical, it is not as predictable as it seems. The original music, the singing, the acting and the costume design are impressive but the absolute highlight of the performance is the stage design and choreography.
I must admit that I entered the theatre with plenty of preconceptions when I went to see the show last Saturday, but when I left I was happy with how I had spent my night.
Just like most of the people I had talked to about it, before buying the tickets my expectations were not very high. I was prepared to sit through three hours of sugar-coated drama combined with a low quality script, adapted for deluded teenagers whose only goal in life is to find true love. However it was not quite like that.
The actors and dancers were well cast. Some of them had already been on national T.V.. The music was typical Italian Pop scattered, here and there, with rock sounds and Renaissance tunes. Most of the songs in the First Act were original and exciting. The Second Act, unfortunately, was boring and monotonous. The lyrics were pretty repetitive, in fact, my 9 year-old cousin could've written some of them. However, the staging of the final scene captured the dramatic note of the story very well and 'saved' the act.
As I mentioned previously, what was really good was the stage design and the choreography. These two elements were the proof of the director's talent. The stage was a set of different moveable pieces, all placed at different heights and all occupying different spaces. The choreography took advantage of the well designed scenery, so that actors and dancers could use all the space available on stage. This fusion between the performer and the setting was what kept me on the edge of my seat.
Overall, I enjoyed this piece of musical theatre. Although it was pretty much shallow, I think it was a nice way to spend a Saturday night. I would advise anyone who is debating whether or not to go see it, to definitely buy a ticket, unless of course you are not fond of musicals, cheesy stories or theatre in general, in which case there is no point. This performance will definitely not be the one that will make you question your disgust for this form of entertainment. For the rest of you, the show is on in Milan until Sunday.