OMG! GAGA FLIES!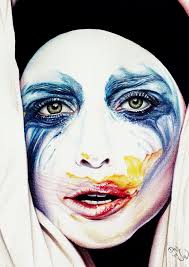 ART POP …
Artpop. Dope. Venus. Lady Gaga. New. I think that says it all.
Artpop, which you probably figured is Lady Gaga's new album, and is a mixture of art and pop.  Strange, artistic and very popish. What more can you expect from one of  the most creative persons on this planet. She is known for her image and costumes. Nicki Minaj and Katy Perry have tried imitating her. But Gaga proved she is currently the most original pop artist and she is going to change pop music as we know it. Artpop the album is very strange, but has great songs to dance to. Tracks like Mary Jane Holland, Venus, Fashion, ArtPop and Applause have shown a unique pop quality that is transforming music from Madonna's age. Artpop using electronics, dubstep, house and  trance is a song made for clubs. I fell in love with the weirdest song on the album and probably the creepiest song in pop history Aura.
Like it or not Gaga is known everywhere and she is also a political figure. You will be seeing a lot more of her. She recently tested the new flying dress. Now this superstar is going to fly to the red carpet: http://www.youtube.com/watch?v=RjrhxNsxq60&feature=youtu.be   It's also said she will be going to the moon.
But once again Gaga proves she can sing. She used to be a jazz singer, and has made couple of jazz songs with Tony Bennett. In the song Dope, she shows us her jazz and opera talent, accompanied by a  piano on the first half of the song. In the second half  she really unleashes her vocals.
I personally love Gaga, and admire her singing talent and her fashion, but I was disappointed with Born this way. I was happy listening to Artpop. It brings out a strange 'Gaga' funk from within me.
Overall, Artpop is a strange and very unique album, very different to what Gaga has previously done. Give this album a chance if your into pop or electronic styles.
Leave a Comment