Toxic Air Kills
November 5, 2018
Do you know how horrible the air quality is in Milan?
Toxic air kills 7 million people every year around the globe, according to the UN Environment. It's the "new tobacco" that billions breathe and also contributes to climate change, another major threat to our health. Over 90% of people worldwide live and breathe unhealthy air every day.
Milan is one of the most polluted cities in Europe and the worst in Italy. Have you ever thought about what is actually in the air we are breathing? Air pollution contains toxic substances that are horrible for our health, such as: Sulfur Oxides, Nitrogen Oxides, Carbon Monoxide, Carbon Dioxide, Ammonia, Radioactive pollutants, and various other toxic and poisonous chemicals. But what is even worse are the microscopic particles such as PM10 and PM2.5 that easily pass though the protective barriers in our lungs and penetrate into our blood stream. They bring toxic matter into our body that can damage our cells and even cause lung cancer, heart problems, and strokes later in life.
I found an interesting resource that is updated daily to show the most accurate air quality index in almost every city in the world: "Real-time Air Quality Index". Here is their website
Photo via Real-time Air Quality Index (AQI) under the Creative Commons License
At the end of October, Milan was in the red zone, rated over 150, and had the worst air quality in Italy. This was also because of a major industrial fire, where a big garbage disposal plant caught fire and all of the toxic trash burnt causing an overwhelming cloud of harmful chemicals to fall over Milan. In recent days, the air quality got better because of all the rain we've had: in fact, the day I wrote this article the air quality was 38, which is in the green range, but I am sure when the rain stops the air quality will go back to its decadent state.
What is healthy about exercising, running, or cycling outside nowadays? Just because you can't see the pollution doesn't mean it doesn't exist. I sincerely struggle to walk a few kilometers without feeling a bit nauseous. There are some steps we can take to avoid health issues caused by air pollution. The best solution would be to move and go live somewhere where the air quality is consistently between 0 and 50, but obviously most of us aren't able to make that leap. Another suggestion is to limit the time spent on busy streets during rush hour traffic. While researching this problem, I came across a small company, called Banale that may have the answer. The company was created a few years ago by two 35-year-old entrepreneurs in Milan. They invented masks that are an innovative mix between high tech and minimalist Italian design. They are sleek and modern, easy to use, and help keep the toxic substances out of our bodies. Last year they produced 50,000 masks, which they are selling all over the world: 70% in Asia, and 30% in the biggest European cities, led by France, UK, Italy and Germany.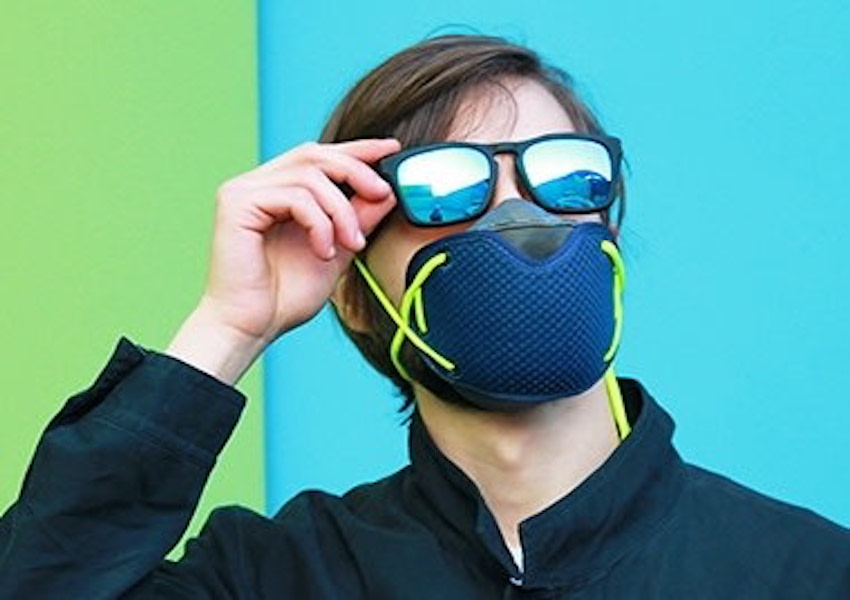 Photo via Banale under the Creative Commons License
Sincerely I hope that the next generation won't have to live a life where it is necessary to wear a mask to go outside and play, because to me that is depressing and shows how the irresponsibleness of our past and current leaders/generation have damaged our planet nearly beyond repair. Thankfully, the World Health Organization (W.H.O.) is making air pollution and climate change a priority for 2019.
Go to the website I mentioned before and tell me about the quality of the air where you live, in the comments below.