Year 10's school trip to Jungle Raider Park Albavilla
On Wednesday 9th November 2022, the Year 10s embarked on a school trip to Albavilla Jungle Raider Park, near Como. There was a buzz of excitement, as we all boarded the buses. We were looking forward to the exciting day ahead of us, and spending time with our friends. After a particularly long bus trip through the mountains, we finally arrived at the park around 9 am. As soon as we arrived we separated in houses. In the morning, Earth and Fire did some team building activities. In the meantime Water and Air went climbing. After lunch at 12:30, we swapped activities.  
The team building activities varied. In one of them for example, you had to stand on one of 4 blocks of wood whilst your team had to get to the yellow cone (about three metres away from the starting point). That meant that at least two people had to stand on the same block. During the activities we learned to work as a team and made friends along the way.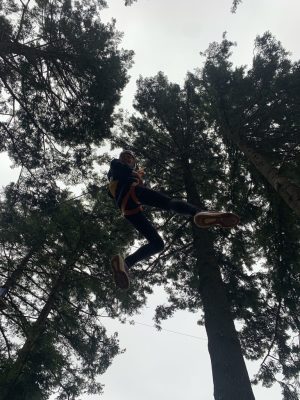 The climbing activities also varied, but this time according to their difficulty. More experienced climbers were able to take full advantage of all of the routes, whereas less experienced climbers were able to do less difficult climbing courses. There was something for everyone, no matter the climbing ability. It was such a fun experience going through the trees on ziplines and blocks suspended in the air with your friends and with people you don't usually talk to.
It was a great way to get to know more people but also spend time with your friends.
Leave a Comment