While the world is fighting over who's to blame and who's the victim in the recent attacks that have been occuring in Israel and Palestine, it is important to have compassion for the innocent victims that are being used as collateral damage throughout this war.
History of the Ga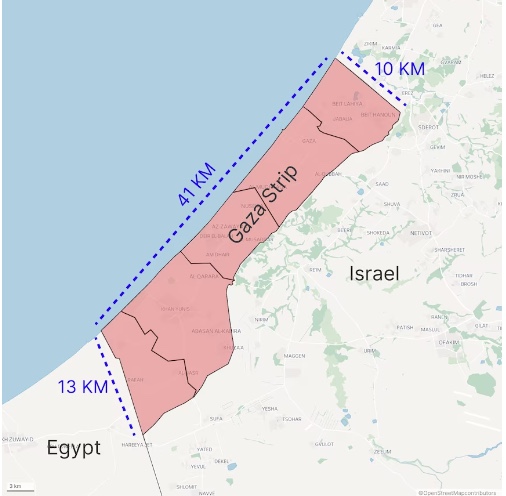 za Area 
In 1948, Gaza was free of British colonial rule, and the General Assembly of the United Nations accepted a plan for the Arab-Jewish partition of Palestine, under which Gaza and an area of surrounding territory was given to the Arabs. The British mandate ended on May 15, 1948, and on that same day the first Arab-Israeli war began.
As a result of heavy fighting in autumn 1948, the area under Arab occupation was reduced to a strip of territory 40 km long and 6–8 km wide. This area became known as the Gaza Strip. 
The Latest Violence
On the 7th of October 2023, the Hamas (an Islamist militant movement many refer to as a terrorist group) attack on israel shook the world. The militant group killed at least 1,300 people and took dozens of hostages back to Gaza.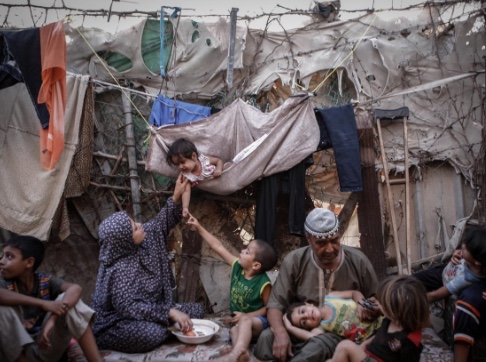 Life in Gaza 
Life in Gaza has been deteriorating since the blockade was imposed. The 16-year-ld blockade began after Hamas seized control of the Gaza Strip. Israel says its economic and physical block
ade is necessary to isolate Hamas. According to The United Nations, more than 80% of G
azans live in poverty. UNRWA says clean water is unavailable for 95% of Gaza's population. 
'Complete siege' – Water is Running Out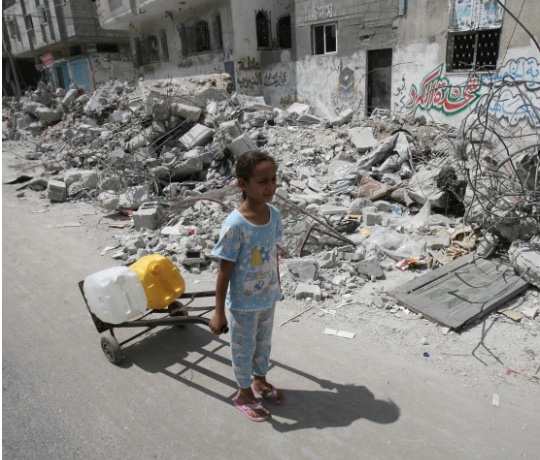 "No electricity, no food,no fuel" was Israel's response to the Hamas attack, leaving Palestine in a worse living situation than before, where 80% of the population was already in need of international aid. The Israeli infrastructure minister later cut off the Strip's water supply too. 
On average, it is greatly reco
mmended that a human being intakes about 3 to 4 litres of water per day and the World Health Organization's minimum requirement for daily per capita is 100 litres.This includes the water used to ensure that basic needs are met, like for instance washing your hands and brushing your teeth. That being said, Gaza currently consumes 83.1 litres per capita compared to Israel's 240-300 litres. The World Health Organization estimates that the average person in Gaza is currently consuming 3 litres of water per day; with this water, civilians are expected 
to cook, bathe themselves and remain hydrated. This restriction is essentially forcing Palistinians to ration their water intake.
No Escape
Due to an expected invasion by the Israeli military, civilians in Gaza were told to evacuate the area of Gaza north of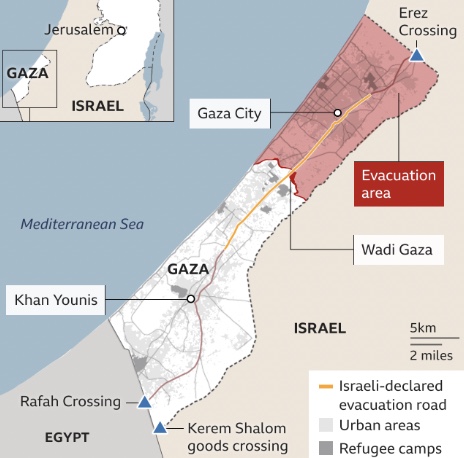 the Wadi Gaza riverbed. The evacuation area includes Gaza City – the most densely populated area of the Gaza Strip. This task is extremely difficult for most of the Palestinians as the border between Gaza and Israel is now completely blocked. "The e
ntire 60 km-long border with Israel is guarded by a perimeter fence with 'no-go' areas extending up to 100m from the fence itself and only farm workers are allowed within 300m.", effectively turning Palestinian land into a 365 km² prison. 
Palestinians are banned from leaving Gaza via Israel unless they obtain an Israeli-issued exit permit. The permits were limited to day labourers, business people, medical patients and their companions, and aid workers. Those living in evacuation zones are now forced to head towards the southern districts, making the Palisinians seek refuge in their own land.
No matter whose side you're supporting or what your feelings are on the recents horrors that have been occurring, it's important to be compassionate for the helpless victims that are forced to stay in dangerous territory. I hope learning what's going on outside our 'IB student' bubble will help us understand how lucky we are and push us to become more grateful.
https://www.britannica.com/place/Gaza-Strip
https://www.unrwa.org/where-we-work/gaza-strip
https://www.rescue.org/press-release/occupied-palestinian-territory-and-israel-irc-warns-catastrophic-humanitarian#:~:text=Even%20before%20this%20crisis%2C%2080,plants%20must%20not%20be%20targeted.
https://www.un.org/waterforlifedecade/pdf/human_right_to_water_and_sanitation_media_brief.pdf
https://www.bbc.com/news/world-middle-east-20415675