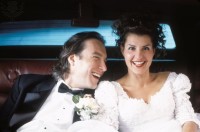 Just from the title you can understand that this film is about Greece.
It is a film that was first launched in the year 2002, and from that moment it has been described as one of the most funny comedies ever written in the history of films.
The writer in fact is Nia Vardalos a young Greek-American actress, that in this film basically exaggerates the Greek traditions to cheer up people of all cultures.
The main characters in this film are  Toula (Nia Vardalos) and Ian Miller (John Corbett).
I have personally seen this film, and every single time I watch it I always laugh.